US Imports – Current Issues
This IAMX Resource Page is brought to you by IAM Mobility Exchange
Supply Chain Issues Combined with Labor Shortages and Price Hikes Frustrate Service Providers and Customers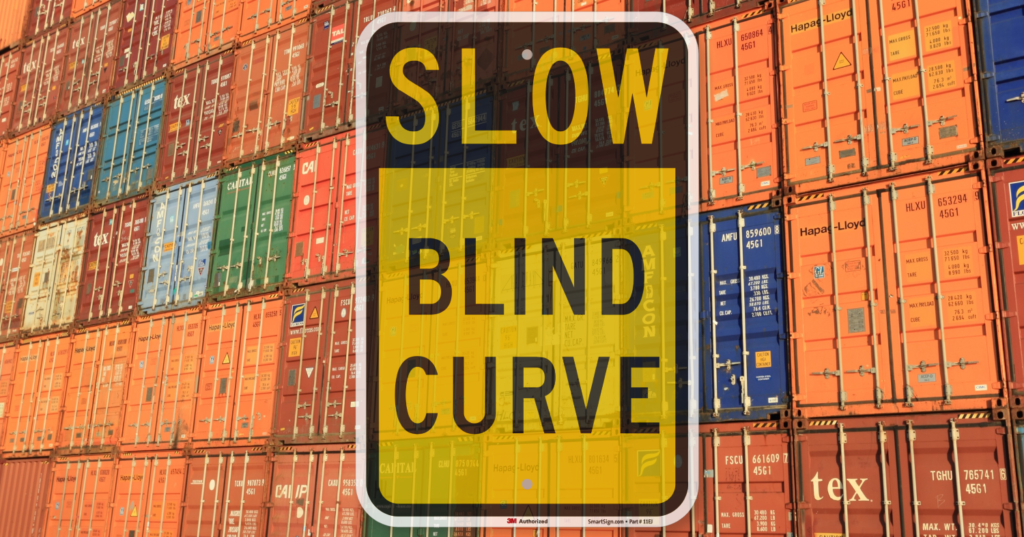 US Moving Services Providers Face Unprecedented Challenges On Import Shipments
The volume of international shipments destined for the United States from points overseas has yet to return to pre-pandemic levels but the unprecedented challenges being experienced by the global moving services industry have been nothing short of staggering to this day. A perfect storm of pre-existing issues and pandemic-induced effects have landed on US shores causing severe service disruptions, delays and financial hardship for both the industry and its customers.
Even customers who have had to reset their expectations against the context of pandemic-related capacity shortages and price hikes are shocked at the growing extent of delays, uncertainty, and notifications of additional charges, fees and penalties related to their shipments arriving in the US.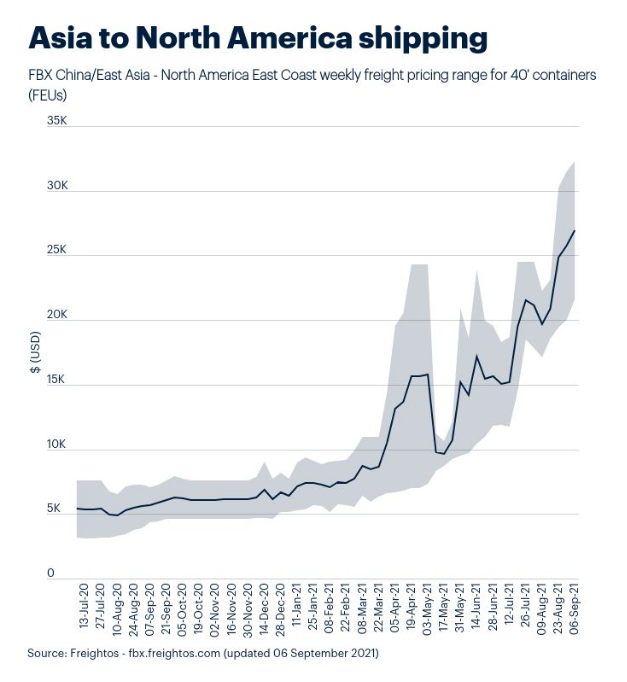 Some Background
As consumer demand in the US, driven by pandemic induced lockdowns, unleashed a flood of imports from Asia to the US; container imbalances, shipping capacity issues and port congestion issues mostly related to the pandemic started to cause a steep rise in shipping rates from Asia to US and European ports. Spot container rates for a 40 foot container from Asia to the US West Coast rose from about $1700 pre-pandemic to current highs of over $20,000. Even at these rates, containers sometimes take a four-to-five week wait from booking to availability.
Moving consumers seeking to return their household goods and personal effects to the US from overseas locations are simply not prepared for the price increases, let alone the unbelievably protracted transit schedules. What used to take 4 to 6 weeks from door-to -door now takes two to three times that long. While these impacts are already beyond belief, customers also now face unexpected charges stemming from additional costs being assessed by ports, shipping lines and underlying transport providers who likewise have to deal with pandemic-related challenges.
Why Are Delays at Destination Occurring?
In a recent Bloomberg Television interview, Gene Seroka, Los Angeles Port Chief, said "The pandemic has thrown the vital world of logistics into a tailspin, spurring delivery delays and goods shortages. Vessels are lining up outside ports because inward-bound shipments are pouring into the world's largest economy just as inland transportation — like trucking and railroads — contends with its own bottlenecks. Shipping containers aren't moving fast enough to distribution centers and warehouses — where space is lacking — to keep the supply chain running smoothly.
Truck capacity has been a stumbling block, with only 50% of registered truck drivers calling to the port at least once a week, said Seroka. He said 30% of truck appointments go unused every day."
Port Congestion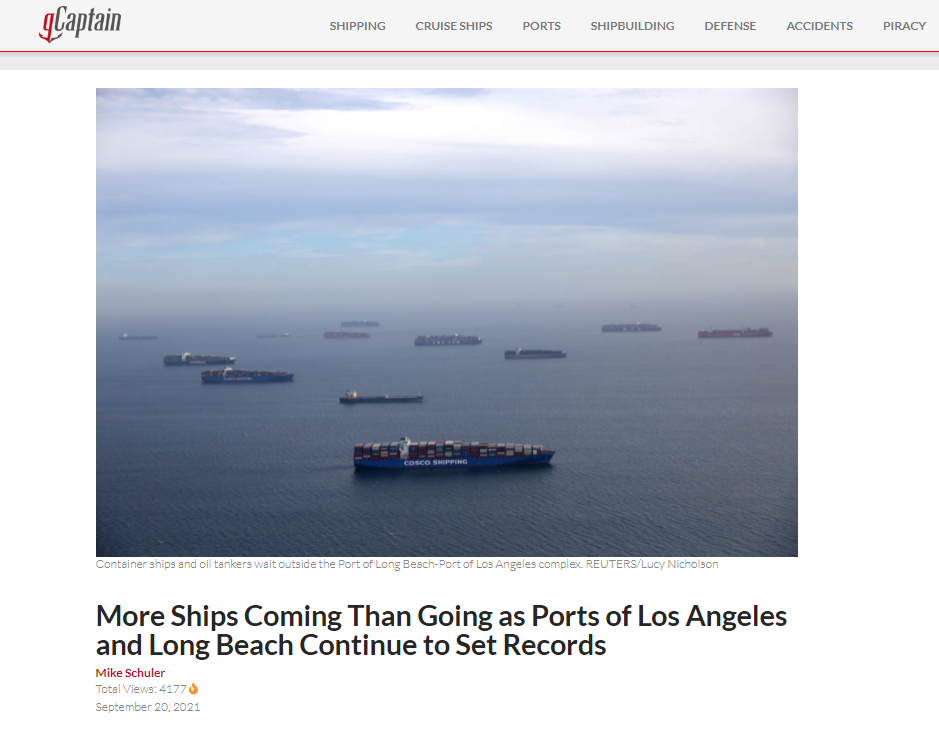 On September 27, 2021, the Marine Exchange of Southern California (MXSOCAL) reported over 154 ships in port at Los Angeles-Long Beach, marking a new record. These ships are either at berth awaiting unloading and reloading or they are waiting in drift areas for their turn at berth.
While the ports have announced extended night and weekend operations to alleviate congestion, average waiting time for ships to anchor at berth at Port of Los Angeles is estimated at 8.5 days, while the dwell time for an unloaded container is 6 days on average.
Dwell time is the time elapsed from when the cargo arrives in port to the time that the goods leave the port after all permits and clearances have been obtained.
Inland Transport Capacity Issues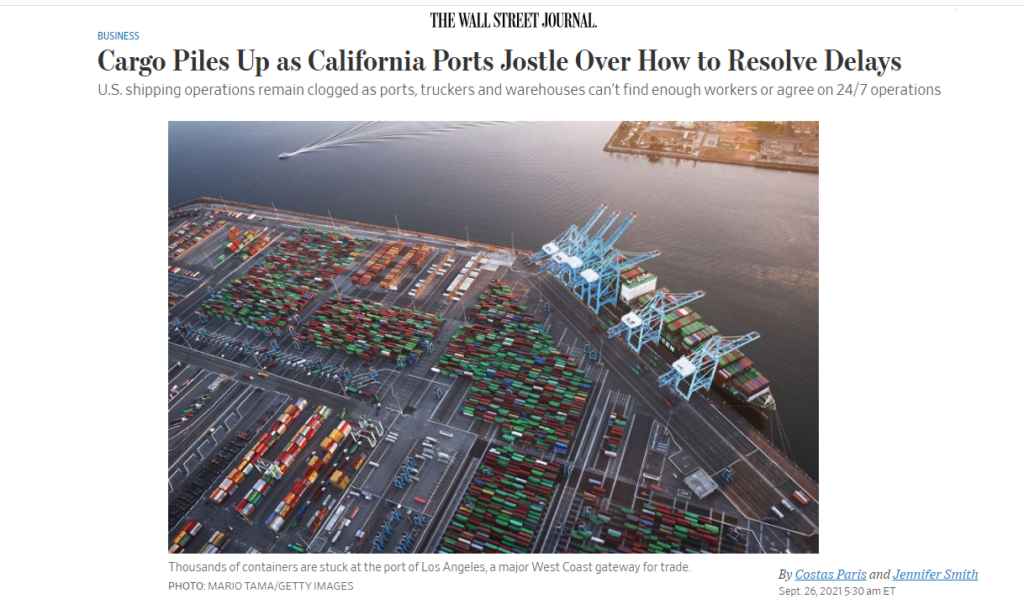 Even if the container is delivering to a residence near the port area, after a container is cleared and made available, it still must be transported to its destination. Long distance inland transport may involve moving the container by rail from the port to an "inland port". For example, a container may be moved from Port Los Angeles to an inland rail terminal in Chicago.
Participants in each link in the U.S. chain—shipping lines, port workers, truckers, warehouse operators, railways and retailers—blame others for the imbalances and disagree on whether 24/7 operations can help them catch up. All of them are struggling with a shortage of workers.
"Truck drivers often don't show up at scheduled appointments to pick up boxes at the inundated container yards to make space for the next load to come in, say shipping and port executives. Truckers blame terminal congestion, saying delays at one appointment can cause them to miss the next, and that shipping lines aren't doing enough to clear out the towers of empty containers taking up space at the docks." Mr. Seroka, Executive Director of Port of Los Angeles, further explains.
The shortage of qualified drivers with a Commercial Drivers License (CDL) is nothing new. Trucking industry estimates point to a shortage of over 100,000 drivers by 2023. As the driver shortage becomes more critical, supply and demand is forcing up wages which in turn is resulting in unexpected spot increases which must either be absorbed by moving services providers or passed on to the customer. Delays and cancellations even on the day of expected delivery are now routine. Those delays trigger detention and demurrage charges charged by the shipping line until the empty container can be returned to the shipping line's nominated depot or port.
Brad Whittle, President of Gallagher Transport International, a company which focuses primarily on customs clearance, shares: "The volume of clearances has been greater this year over last year for certain, and we have seen that process go relatively smoothly. The main problem is port delays, trucking, labor, etc. We experience daily delays of truckers unable to pick up at many ports due to congestion – they just can't get there in time to pick up, causing a domino effect which impacts us all but most importantly our customers."
Moving Services Providers Face Challenges
Role of the Destination Service Providers
The international moving industry relies on a global network of service providers each specializing in various aspects of the moving supply chain. The origin service provider provides services at origin and may typically coordinate the over all door-to-door move. During transit, service providers who provide inland transport, ocean or air transport, port operators, customs brokers are engaged to move the shipment along to its destination. The final stage of coordinating the delivery arrangements from the destination port to the customer's final residence belongs to the Destination Service Provider. This is usually the single point of contact for the moving consumer on the US side that coordinates the activities related to customs and port clearance, inland transport, delivery to the customer's residence and return of the empty container to the shipping line's depot.
Pandemic Related Workforce Issues
Pandemic related workforce issues are not unique to the moving industry. Welcome signs at restaurants, stores, and and every service business that you can think of have been replaced by "Help Wanted" signs. It is estimated that there are over 10 million job vacancies in the US while over 8 million Americans are reported as "Unemployed".
The pandemic has triggered a number of shifts in lifestyle trends. For example, workers have discovered that working from home allows them to leave higher priced homes in city centers in favor of lower cost areas perhaps closer to family. Such shifts have caused a huge surge in moving demand at the same time that moving services providers are experiencing workforce issues making it impossible to increase capacity by recruiting new staff.
Not only has the supply and demand forced pricing increases for moving services, workforce issues have reduced capacity. For customers waiting for international deliveries, this translates into one more potential factor causing delays.
Workforce issues are also impacting customer service staff and operational staff who are dealing with the additional work processes caused by delays, rerouting, and rescheduling. Customers are understandably stressed and frustrated but so are moving services staff who must face customers demanding absolute answers which they are not able to provide.
Forecasts & Navigating Through This Period
"It's going to get worse again before it gets better," said Brian Bourke, chief growth officer at SEKO Logistics. "Global supply chains are not built for this. Everything is breaking down."
"Our members are tired. Our members are feeling the pain of these Covid deaths," said Mike Podue, president of ILWU Local 63. "We're lucky there hasn't been a major accident."
"This month, the median cost of shipping a standard rectangular metal container from China to the West Coast of the United States hit a record $20,586, almost twice what it cost in July, which was twice what it cost in January, according to the Freightos index. Essential freight-handling equipment too often is not where it's needed, and when it is, there aren't enough truckers or warehouse workers to operate it." Quoted from Wall Street Journal Article Sept 30, 2021
In the US, some government subsidies have ended but there are no indications that this has impacted workforce shortages. The moving industry is particularly vulnerable to staff poaching as it demands tough physical labor combined with long hours and extreme patience in dealing with customers who are understandably undergoing moving-related stress. Moving companies report cases of decades-long, loyal company veterans making the decision to move to higher wages and better working conditions as landscapers, bus drivers and regular route truck drivers.
Given this outlook, these challenging times call for renewed efforts by all the stakeholders in the relocation process to communicate and share resources to create understanding and to disseminate accurate information on the current situation as it continues to unfold. There may be few short-term solutions but what we know for sure is that information can foster understanding which can lead to a more unified and cooperative approach to weathering this storm together.
The International Association of Movers remains committed to providing a forum where such information can be aggregated and shared with its members, the industry at large and with our customers.