IAM Mobility Exchange (IAMX) is the online directory of the International Association of Movers (IAM). Each month, IAMX hosts over 5000 industry professionals with directory search numbers going over 17,000 times. These searches generate over 11,000 e-mail clicks resulting in new business engagements among qualified service providers. You can view the detailed data analytics about IAMX at: IAMX Data Analytics.
Industry professionals rely on IAMX for key company information such as address, contact, specializations, and qualifications. The IAMX Validation system performs a running review of the qualifications of IAMX-Validated Members providing assurance that the information related to memberships, qualifications and compliance can be trusted.
Continuing its commitment to promote trust and professionalism among its members, IAMX recently launched its IAMTrusted Moving Company Program. Backed by the IAM Issue Resolution System (IIRS), the program presents a higher level of commitment to professional conduct.
Featured Services – What is it?
Responding to member suggestions, IAMX now presents Featured Services for IAMX-Validated Members who wish to provide their colleagues easy access to information about the services that distinguish and differentiate them in the marketplace.
Companies that subscribe will display the Featured Services icon in their search listing and in their company profile.

Clicking on the icon will take the user to the Featured Services listing with links to web resource pages or to downloadable files. Click on the video below to see how it works.
---
---
Why Differentiation is Important
Many moving service providers provide enhanced destination services to help customers settle into their new home. These Featured Services can make the difference when customers are making their choice between competitive proposals. If we don't differentiate, we may be judged on price alone.
This differentiation can be effectively demonstrated to customers in a move proposal by including links or printed/pdf copies of information about Featured Services. A destination guide or visa/immigration referral may make a move proposal stand out.
Well-trained Moving Consultants can share an online screen with their prospective customer to review the enhanced destination services offered by their IAM Member partner. When doing surveys onsite, Moving Consultants can use a connected tablet device to review these services dynamically with the customer. The additional time required for the Moving Consultant to prepare by reviewing the Featured Services offered by partner companies will pay off when the Consultant is able to refer to services and solutions available through their destination partner.
Collaborative – Cross Selling
The consultation opportunity with the customer at origin is not only critical for differentiating our company and improving our chances of closing the deal; it also offers an important and untapped opportunity for cross-selling services at destination. Being aware of the enhanced destination services offered by our partners through the Featured Services listing may mean opportunities to earn referrals and commissions.
Frequently Asked Questions
Is my company eligible to participate in Featured Services?
Only IAMX-Validated Members may participate.
Is there a cost?
The annual subscription cost to participate is US$300 but we are offering a free trial of Featured Services to all IAMX-Validated and IAMTrusted Moving Companies until Dec. 31, 2023. Click here to get started: connect@mobilityex.com
What happened to the Partner Portal feature?
The Partner Portal feature was designed to allow members to present a link to their online rate systems. We have renamed this to Online Rates. If you would like to add your Online Rates link to IAMX, please contact us at connect@mobilityex.com.
What Featured Services can be presented?
We have created a list of typical Featured Services. Members that wish to suggest additional categories are welcome to do so by contacting connect@mobilityex.com.
What types of resources can be presented?
There are two ways to present resources:
Downloadable Files – these can be PDF, Word Documents, Image Files, etc. File sizes cannot exceed 15 megabytes.
Web Resources – these are links to internet resources like web pages
How do we add Featured Services?
Once your subscription is activated, there will be a new section in your Company Profile entitled Featured Services. You will be able to upload resources or add web links there in the appropriate categories. IAMX staff can assist you: connect@mobilityex.com
I'm ready. How do I get started?
Contact connect@mobilityex.com and we'll get you going.
Can I schedule an online appointment to get more information?
Absolutely. Just click this link: Schedule an appointment. (Requires ability to connect to a Zoom online session.)
Instructions for Adding Featured Services
Step 1 is to activate your subscription. Just contact us at connect@mobilityex.com.
Once your subscription is activated, sign in to IAM Mobility Exchange. You must be an admin user. Here are instructions to: Sign In to IAMX
Once you are signed in, click the Admin menu and Select Edit.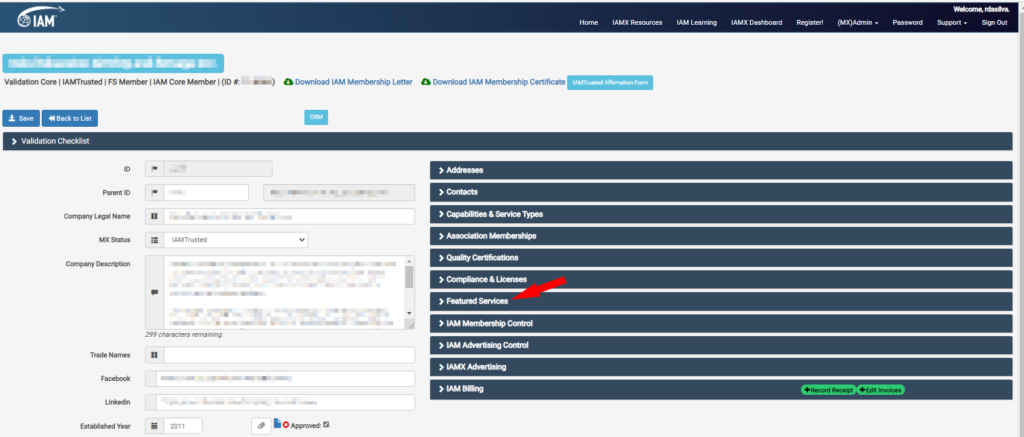 Clicking on the Featured Services tab will open it.
To add a viewable, downloadable file, click the paperclip icon (red arrow). File sizes cannot exceed 15 megabytes.
To enter a web address: enter the URL (universal resource locator). Usually you can just copy this from the address bar of your browser and paste it here: (green arrow).
Enter a date when you the feature should be reviewed. It is good practice to review these periodically. (blue arrow)
Be sure to save your work by clicking on the Save icon at the upper left of the page.
Your entry will be reviewed and tested by IAMX Admin staff. If all is in order, it will be Approved (yellow arrow) and be immediately visible in your company profile at IAMX.
If you need assistance just contact us: connect@mobilityex.com