This IAMX Resource Page is brought to you by IAM Mobility Exchange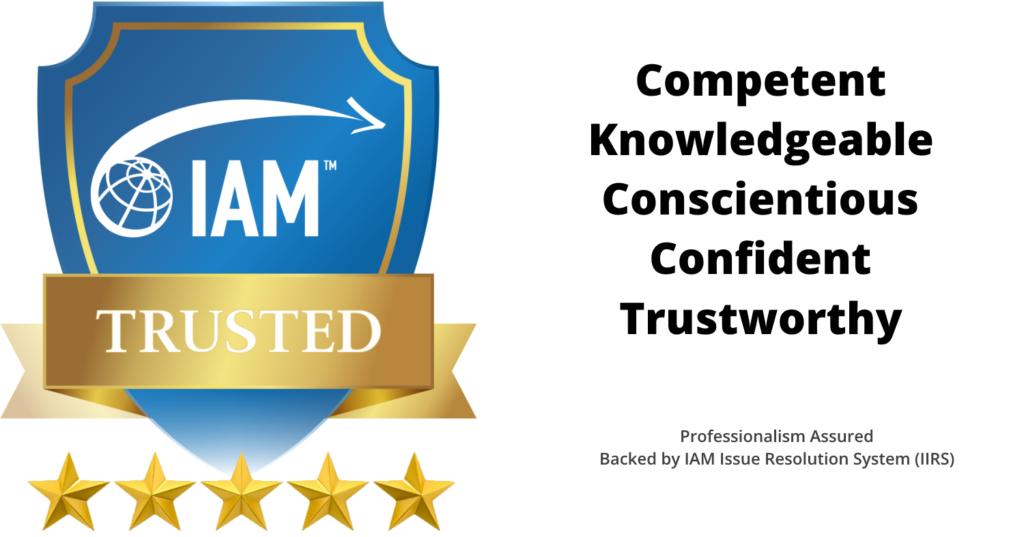 IAMTrusted Mover – Professionalism Assured
Our business relies on our ability to collaborate with service partners operating to professionally expected standards. This system, built on experience and trust, works remarkably well. Most transactions flow seamlessly without formal written contracts but the few exceptions create tremendous friction, inefficiency and financial risk for the industry.
Assuring Adherence to a Professional Code of Conduct
The IAMTrusted Mover designation responds to IAM member companies that have made significant investments in their business to promote a culture of competence, knowledge, and conscientiousness within their staff and wish to display a tangible commitment of their trustworthiness to their industry colleagues. These companies also wish to reduce inefficiency and risk by choosing to collaborate with their peers who have also made this same commitment by earning their IAMTrusted Mover credentials.
IAMTrusted Code of Conduct
The IAMTrusted Mover Code of Conduct lists the requirements that IAM member companies must adhere to as a condition of earning and maintaining their IAMTrusted Mover designation. The IAMTrusted Mover Code of Conduct is built upon the foundation of the Code of Ethics of the International Association of Movers which all IAM Members are bound by.
The IAMTrusted Code of Conduct stresses truth and fairness in advertising, sales and customer service practices that build and maintain customer trust and confidence in the professional moving industry. the IAMTrusted Code of Conduct relies on the IAMX-Validation system to document, review and validate IAMTrusted Mover requirements.
An IAMTrusted Code of Conduct requires each IAMTrusted Mover to agree to be bound by the processes of the IAM Issue Resolution System (IIRS).
Click here to view the complete IAMTrusted Code of Conduct document.
IAM Issue Resolution System (IIRS)
While most transactions between IAM member companies are concluded successfully, occassional issues may arise. These issues can be classified into 3 major categories:
Financial – Issues related to financial disputes or non-payment of transactions charges.
Ethics – Ethics or professional code of conduct violations
IAM Trademark Infringement – misuse of IAM logos, trademarks and tradestyles
Any IAM member company will be able to report an issue through the IIRS automated system at IAM Mobility Exchange. While all IAM members are bound by the Code of Ethics of the International Association of Movers, IAMTrusted Movers voluntarily agree to abide by the IAMTrusted IIRS procedures which stipulate a strict timeline for issue aknowledgement and resolution. In addition, in the event that issue resolution cannot be achieved between the involved parties within the resolution period, an IAMTrusted Mover agrees to be bound by the issue resolution decision made by the IAM Ethics Council.
An IAMTrusted Mover displays their IAMTrusted Mover logo featuring 5 stars denoting their status in good standing as part of their IAMX Company Profile. Any failure to abide by the IIRS timeline milestones and processes may result in the removal of a star until that failure is rectified. Additional penalties may apply depending on the frequency and severity of IIRS procedure violations. The complete rules and procedures of the IIRS are outlined in the IAMTrusted Code of Conduct document.
IAMTrusted Mover – A Unique Differentiation
A key strength of the IAM is that it welcomes industry participants of all sizes and ranges of experience. This diversity fosters a stronger community of members developing and shared resources that contribute to continous professinal quality improvement.
IAM member companies that wish to differentiate themselves and display their commitment to strict adherence to the enhanced standards of professional conduct contained in the IAMTrusted Code of Conduct will now have the option to apply for IAMTrusted Mover status.
Key Benefits of Working with an IAMTrusted Mover
Trust – All qualifications including those related to IAMTrusted Code of Conduct are documented and validated through the IAMX-Validation system.
Minimize Financial Risk – The IIRS procedures will ensure prompt settlement of financial transactions and provides a time certain process to resolve financial disputes.
Assurance of Professional Conduct – An IAMTrusted Mover agrees to the written rules of professional conduct outlined in the IAMTrusted Code of Conduct and agrees to be bound by the IIRS procedures in the event that an ethics issue is raised against them. In addition, through the IAMTrusted Mover requirements to support industry standards contained in IAM Learning training programs, staff of IAMTrusted Movers will adhere to IAM supported industry standards.
Dynamic Display of IAMTrusted Status – Unlike quality assurance programs that rely on infrequent, periodic snapshots of a company's status, the IAMTrusted Mover program displays a dynamically updated 5 star rating based on objective metrics related to the adherence to the IAMTrusted Code of Conduct.
Objective Status Ranking – The IAMTrusted Mover 5 star ranking system is not based on subjective user reviews which may be open to manipulation. The IAMTrusted 5 star logo depicts the current status of the IAMTrusted Mover's adherence to the IAMTrusted Code of Conduct in real time.
---
IAM Code of Ethics (Draft)
IAMTrusted Mover Code of Conduct (Draft)